Stress Factors Among Nursing Students
Keywords:
Stress, Academic Concern, Internet Connectivity, Intrapersonal, Interpersonal, Quotative-Descriptive-Correlational, Spearman Rho Test, Chi-Square, Bohol, Philippines
Abstract
Stress is a health epidemic of the 21st Century. It can affect anyone at any time, altering or impairing their general health (WHO). The study utilized the quantitative-descriptive correlational research design to determine the stress factors among the two hundred randomly selected nursing students of the University of Bohol, aided by a self-made questionnaire adopted from the Student Nurse Stress Index (SNSI) by Jones and Johnston 1999. The tool underwent Cronbach's Alpha test with a reliable result. The instrument was distributed online. Findings revealed that most respondents were young adults from 20-21 years old, female, and single. The respondents were moderately stressed with academic concerns and internet connectivity, followed by interpersonal and interpersonal problems. When the data were subjected statistically using SPSS with Spearman's rho test and chi-square, it was found that the year level had a significant relationship to stress levels.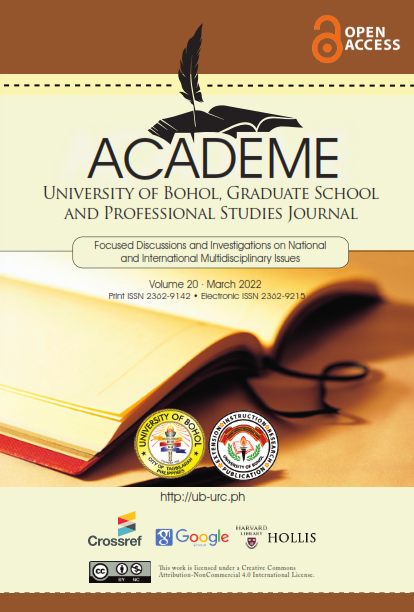 Downloads
License
Copyright (c) 2022 Liesel A. Roberson, Lee Ann B.  Ampong, Joseph J. Campano Jr., Aljohn J. Indus, Mary Ana Jeane Oguis, Rey Angelo G. Sagaral, Jasmin C. Laburada, Azucena F. Salaum, Beryl Elizabeth B. Lupot
This work is licensed under a Creative Commons Attribution-NonCommercial 4.0 International License.