Technological Pedagogical and Content Knowledge (TPACK) Of Teachers in Relation to the Context and Their Teaching Performance, Loon, Bohol
Keywords:
TPACK, Context, Teaching Performance, quantitative-correlational method, Spearman Rank Correlation, Bohol, Philippines, `
Abstract
The Technological Pedagogical and Content Knowledge (TPACK) framework, developed by Mishra & Koehler, provide relevant and comprehensive knowledge necessary for 21st-century and technology-oriented teaching. This study chiefly intends to determine the TPACK level in relation to the context and their teaching performance. This study utilized a quantitative-correlational method using a survey research design to gather the TPACK and context levels; and a documentary analysis of the Individual Performance Commitment and Review Form (IPCRF), the school year 2019-2020, to gather the teaching performance. The respondents of the study were the teachers from the public secondary school of Loon, Bohol, with 90 teachers as the sample. The researcher complied with the Research Ethics Committee's requirements to guarantee the proper observation of the research ethics protocol. Results showed that the teacher respondents had a very high level of TPACK and a very satisfactory teaching performance. The respondents also rated their context with a very high level. In the further analysis of the gathered results, findings revealed that the respondents' TPACK had a significant relationship to the context, but none to the teaching performance. It also showed that the respondents' context and teaching performance had an insignificant relationship.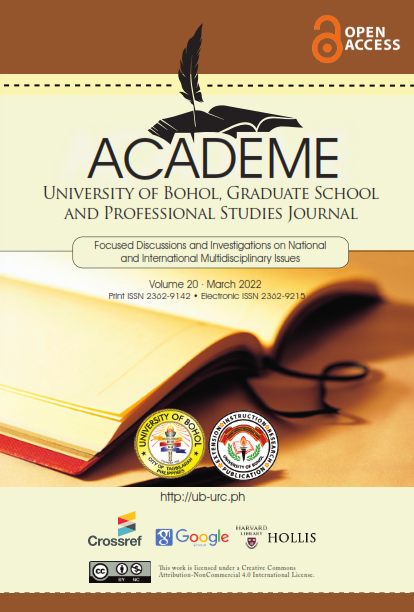 Downloads
License
Copyright (c) 2022 Joshua L. Relator
This work is licensed under a Creative Commons Attribution-NonCommercial 4.0 International License.