Teachers' Emotional Labor in Relation to Classroom Management Practices of University of Bohol, Tagbilaran City, Bohol
Keywords:
Teachers Emotional Labor, Classroom Management Practices, Quantitative Descriptive Correlational, Spearman Rank Correlation, Bohol, Philippines
Abstract
Teaching is a profession with the highest requirements for emotional labor or the regulation of emotions. Facial expressions, poise, and bearing have an impact on their interaction with the students. Classroom management is a prerequisite to teaching. This study investigates the relationship between college professors' emotional labor and classroom management practices at the University of Bohol (UB) in Tagbilaran City, Bohol. The researcher utilized a quantitative descriptive survey method using the Teachers Emotional Labor Scale developed by Cukur (2009) and Classroom Management Practices of Washburn (2010). The respondents were regular college professors from the 11 tertiary colleges of the UB. The results revealed that college professors had high emotional labor for they are moderately able to manage their emotions during classes and highly practiced their classroom management. Furthermore, results showed an insignificant degree of relationship between the profile of the professors and their emotional labor. Likewise, there was no relationship between the profile and the classroom management practices of the respondents. Results further revealed that the teachers' emotional labor is not correlated with their classroom management practices.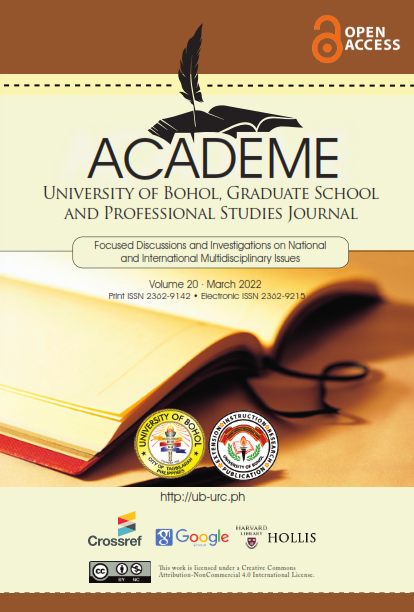 Downloads
License
Copyright (c) 2022 Jelinda R. Fortich, Mellyne B. Jaspe
This work is licensed under a Creative Commons Attribution-NonCommercial 4.0 International License.