Effects of Pandemic Crisis Among Nursing Students of the University of Bohol
Keywords:
Pandemic Crisis, Physical, Social, Emotional, Mental, Spiritual, Spearman Rho test, Chi-square test
Abstract
This study aims to investigate the impact of the Covid-19 Pandemic on the nursing students at the University of Bohol. The researchers utilized the descriptive correlational quantitative research design aided by a modified questionnaire. The tool was pilot-tested and underwent Cronbach's Alpha test with a reliable result. It was distributed to the two hundred (200) randomly selected nursing students of the University of Bohol, College of Nursing, who were enrolled in the academic year 20202021, during which the e-learning educational platform was implemented. The gathered data was subjected to Spearman Rho's and Chi-square tests to determine the relationship between the respondents' profiles and the level of effect on the pandemic crisis. Results revealed that the respondents were "Moderately Affected,", especially in their mental and emotional status. Most of the respondents who were more affected during this pandemic crisis are young adults who are adjusting to the challenges of implementing new educational platforms as they experienced slow connectivity that affected their academic performance. The mobilization of the school's student services and guidance services is one way of helping the students become adaptive to the challenges they face.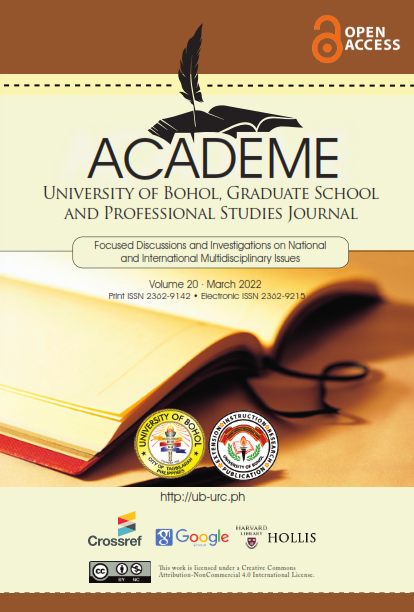 Downloads
License
Copyright (c) 2022 Aprille Kyla T. Araco, Elen Fin B. Alaba, Jamaica S. Pana, John Michael E. Chatto, Cherry Irish N. Cubero, Zenelyn C. Liwagon, Maria Charmin M. Mejia, Layna B. Opaco, Bonnibella L. Jamora, Bienvenida P. Borja
This work is licensed under a Creative Commons Attribution-NonCommercial 4.0 International License.